Augustine's Confessions today: an afternoon with Carolyn Hammond
20 april 2016 tot 20 april 2016
This April, Harvard University Press and Athenaeum Booksellers celebrate their longstanding partnership with a month of activities and promotions to mark Athenaeum's 50th anniversary. We are honored to welcome Carolyn Hammond for the international presentation of the highly anticipated second (and completing) volume of her new critical edition of Augustine's Confessions, April 20th, 13.00-15.00 at Spui25.
Confessions, composed ca. 397, is a spiritual autobiography of Augustine's early life, family, personal and intellectual associations, and explorations of alternative religious and theological viewpoints as he moved toward his conversion. Cast as a prayer addressed to God, though always conscious of its readers, Confessions offers a gripping personal story and a philosophical exploration destined to have broad and lasting impact, all delivered with Augustine's characteristic brilliance as a stylist. It is not only one of the most influential texts of the Christian faith, but also of Western literature.
The revd. dr. Hammond will speak about her fascination with the work (and its maker), about its enduring relevance, and about what it entails for the translator who works to reintroduce it to a modern (albeit learned) audience. She will be joined by prof. dr. Burcht Pranger (History of Christianity, UvA) and dr. Nienke Vos (Greek and Latin languages and cultures, VU), specialists of early Christianity in general and Augustine's Confessions in particular, as well as by dr. Jonathan Gill (AUC), who specializes in literature and creative writing and will act as moderator. 
The presentation and the subsequent exchange between the speakers will be followed by a walking luncheon, which will offer occasion for further informal exchanges.
About the speakers
Carolyn Hammond is the dean of Gonville and Caius (University of Cambridge) and a priest of the Church of England. Beyond her work on Augustine's Confessions (Loeb, vol. I & Loeb, vol. II), her research interests include liturgical praxis as it relates to printed text and spoken word, characterization and causation in early Christian historiography, and Mariology. She teaches Early Christian history and doctrinal development, Greek and Latin languages, Cicero, Caesar, Virgil and Augustine.
Burcht Pranger is emeritus professor of the history of Christianity at the University of Amsterdam and former director of its Institute for Culture and History. His most recent monograph is God (1000-1300) (VerLoren, 2013) and he has written, and writes, extensively about the literary dimension of Christian learning, in which Augustine looms large.
Nienke Vos studied theology in Utrecht and Oxford and wrote her Ph.D. on Bible usage in early Christian holy lives (like those of Martin of Tours en Benedict of Nursia). She frequently publishes on Bible reception in early Christian literature. She is assistant professor of Early Christian Greek and Latin at VU University Amsterdam.
Jonathan Gill is the author of Harlem: The Three-Hundred Year History, from Indian Village to Capital of Black America (Grove/Atlantic, 2001) and has written for The New York Times, The Guardian, The Village Voice, and The Nation. He has taught at Columbia University, the Manhattan School of Music, the City College of New York, and Fordham University, and he currently teaches writing and humanities at Amsterdam University College. His next book, about Hollywood and espionage during the Cold War, is due out from Norton in 2017. As a reader and a writer, he counts Augustine's Confessions among his best-loved works.
Register
You can sign up for this program for free. Subscribing is not non-commital: we count on your presence. If you are unable to attend, please let us know via  [email protected] | T: +31 (0)20 525 8142.
Delen op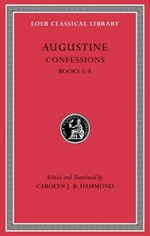 8-12-2023