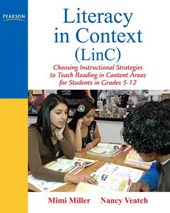 Literacy in Context (LinC)
Choosing Instructional Strategies to Teach Reading in Content Areas for Students Grades 5-12
This insightful book has the answers that will help teachers choose which strategies to use to support reading in the content areas-and how to use them effectively.
There are many effective strategies that can be used to support literacy, but how do teachers choose and use them?Literacy in Context (LinC, pronounced "link") provides middle and high school teachers with an instructional model to embed literacy instruction into content area teaching. This book details literacy strategies that can be used with content area instruction to promote the development of vocabulary, fluency, comprehension, and motivation. Unique to this book is the focus on process--it provides guidance about how to choose the most effective literacy instructional strategies for different contexts and classes of students. The book models how teachers use the LinC Cycle(assess, reflect, plan, and teach/re-teach) to make decisions about which instructional assessments and strategies to choose for their adolescent students.
Take a Peek Inside
<>
The unique process approach shows how to use the Literacy in Context (LinC) cycle (assess, reflect, plan, and teach/reteach) to choose and use the most appropriate instructional strategies to help adolescents develop their reading skills in the content areas.
Over 40 instructional strategies for supporting adolescents' learning from content area text connect to the goals of vocabulary fluency comprehension, or motivation instruction. Each strategy description is complete with a detailed research base; clear, step-by-step procedural directions; and student work samples.
Learning Log Appendix is referred to throughout the chapters and provides readers with opportunities to apply strategies and techniques introduced in the book before using the strategy or technique in a real classroom.
Teacher Tools Appendix includes black line masters accompanying the strategies and assessment to use with students in fifth through 12th grade classrooms.
Pause and Reflect boxes in each chapter ask readers to stop and consider how the book connects with a personal teaching experience.
Resources icons appear throughout, directing readers to supplementary text and web-based teaching resources.
The Literacy in Context (LinC) Teaching Plan guides teachers in planning lessons that support content literacy, ensuring that the lessons are standards-based and account for the learning needs of ALL students.
>
What Educators Are Saying
"Teachers and students studying to be teachers want strategies that they can use in the classroom and this book definitely delivered...The reader is hooked from the first page."
~Amy MacKenzie, Manhattanville College, Purchase, NY
These two authors clearly have a background in classroom teaching and are adept at writing for the busy, classroom teacher. Their style of prose moves the reader through focusing vignettes and into the rigors of the chapters."
~Rosemary Fessinger, University of New Mexico
Niet leverbaar
Deze titel is (nog) niet op voorraad.
Specificaties
ISBN

9780135034842

Uitgever

Pearson

Datum

23-12-2010

Taal

Engels

Bladzijden

0

Bindwijze

Paperback

Genre

Pedagogiek/onderwijs
Meer op Athenaeum.nl over boeken
Koop dit boek bij Athenaeum
Gratis verzending vanaf € 20,-.
Bestellen zonder registratie of login.
Vertrouwde service, veilige afhandeling.