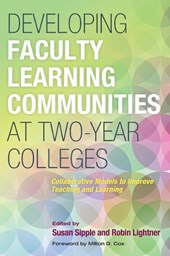 Developing Faculty Learning Communities at Two-Year Colleges
Collaborate Models to Improve Teaching and Learning
This book introduces community college faculty and faculty developers to the use of faculty learning communities (FLCs) as a means for faculty themselves to investigate and surmount student learning problems they encounter in their classrooms, and as an effective and low-cost strategy for faculty developers working with few resources to stimulate innovative teaching that leads to student persistence and improved learning outcomes. Faculty developers at many two-year colleges still rely solely on the one-day workshop model that, while useful, rarely results in sustained student-centred changes in pedagogy or the curriculum, and may not be practicable for the growing cohort of part-time faculty members. By linking work in the classroom with scholarship and reflection, FLCs provide participants with a sense of renewed engagement and stimulate collegial exploration of ways to achieve educational excellence. FLCs are usually faculty-instigated and cross-disciplinary, and comprise groups of six to fifteen faculty that work collaboratively through regular meetings over an extended period of time to promote research and an exchange of experiences, foster community, and develop the scholarship of teaching. FLCs alleviate burnout and isolation, promote the development, testing, and peer review of new classroom strategies or technologies, and lead to the reenergising and professionalisation of teachers. This book introduces the reader to FLCs and to the Scholarship of Teaching and Learning, offering examples of application in two-year colleges. Individual chapters describe, among others, an FLC set up to support course redesign; an "Adjunct Connectivity FLC" to integrate part-time faculty within a department and collaborate on the curriculum; a cross-disciplinary FLC to promote student self-regulated learning, and improve academic performance and persistence; a critical thinking FLC that sought to define critical thinking in separate disciplines, examine interdisciplinary cross-over of critical thinking, and measure critical thinking more accurately; an FLC that researched the transfer of learning and developed strategies to promote students' application of their learning across courses and beyond the classroom. Each chapter describes the formation of its FLC, the processes it engaged in, what worked and did not, and the outcomes achieved.
€45,99

Levertijd: 4 tot 10 werkdagen.
Specificaties
ISBN

9781579228453

Uitgever

Stylus Publishing

Druk

1e

Verschenen

15-01-2012

Taal

Engels

Bladzijden

224 pp.

Bindwijze

Paperback

Genre

Pedagogiek/onderwijs
Meer op Athenaeum.nl over boeken
Koop uw boeken bij Athenaeum
Gratis verzending vanaf € 20,- (in de algemene webwinkel, binnen Nederland).
Bestellen zonder registratie of login.
Vertrouwde service, veilige afhandeling.