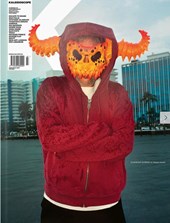 Kaleidoscope #34
Sping/summer 2019
Founded in 2009 in Milan, KALEIDOSCOPE is the international art media company defined by its curatorial and interdisciplinary attitude towards the New. A combination of ambitious content and iconic design makes it a meeting point for contemporary art and creative communities around the world.

Among others this issue features an interview to the late H.R. GIGER by Hans Ulrich Obrist and Patrick Frey, on how his work progressively shifted from abstract to figurative, from organic to apparatus—culminating in his concept design for Alien, which catapulted to fame his daunting vision on death, futurism and the apotheosis of the woman. The issue comes with "YUNG PALM," a special supplement created by Harmony Korine in partnership with Gucci.

–Anna Uddenberg photographed by Lukas Wassmann introduces our DIGEST The New Domestic Landscape, weighing in on an aesthetic tendency at the intersection of domesticity, technology, gender and contemporary lifestyles. Focusing on a new generation of (mostly female) artists who pervert familiar forms and transgress the codes of good taste, waiving the traditional distinction between the functional and the aesthetic, the survey includes interviews with Uddenberg (by Anna Gritz), Melanie Matranga (by Fredi Fischli and Niels Olsen) and Hannah Levy (by Jocelyn Miller); an essay by Franklin Melendez; and two visual inserts by Louisa Gagliardi and Neïl Beloufa.
–Negotiating the boundaries between cinematography and art, LA-based filmmaker Arthur Jafa wants to make black film with the same power, beauty and alienation as black music—seeing the rule as something not to be followed, but rather continually undone and reforged. Through dense accumulation followed by delicate editing, his work frames black phenomena on a vastly human, even cosmological scale. In this issue's monographic FILE—comprising an essay by Aria Dean, an interview by Dana Hoey, and original photography by Nathanael Turner—he discusses authorship, mental illness, self preservation, fluid resistance, and always keeping it going.
–In the footsteps of Rudofsky's uniform—seamless and mobile, genderless and utopian—the NY-based brand Telfar is described by Matthew Linde as occupying an interstice between idealism and collective sickness, individualism and psycho-normalization. This 30+ page photo story by Torso presents the brand's FW18 collection, illustrating their use of mimesis, extreme branding and détournement as tongue-in-cheek strategies for hijacking the mainstream.
–In an extensive photographic series by German photographer Tobias Zielony, whose work is subtly situated at the intersection of documentary and conceptual photography, Kiev's club and queer underground scene is depicted as the unexpected site where the "intimate meets the political" in spite of repression and violence.
Specially commissioned contributions by artists and creators, this issue's VISTAS include: pre-Internet LA artist Alex Bag, recounting to Piper Marshall and Mitchell Anderson how her "dirty little DIY hand" helped her make work that's both cynical and sentimental; Italian photographer Gusmano Cesaretti, telling Alessio Ascari about forty years of being an eyewitness of the Chicano graffiti and lowrider subcultures in LA; New York artist Danny McDonald, "yesterbating" with Alison Gingeras about the dissident spirit of pre-gentrification downtown and discussing the queer subtext of his work; the young artists and creators reshaping Beirut's cultural landscape, confessing to Myriam Ben Salah the responsibility of the political and the pleasure of the trivial; newly-launched algae-based foods company Nonfood, which artist Sean Raspet explains to A.E. Benenson as an attempt to fold art into other areas of the economy; Francesca Gavin looking back to the expansive art of Rammellzee, with its sensationally inventive blend of wildstyle and Afrofuturism, on the occasion of his first New York retrospective; and French filmmaker Michel Auder, whose thousands of hours of videotape are a diary of his life and a time capsule of New York's downtown scene.
SEASON, the magazine's opening section, accounts for the best of this spring/summer with profiles and interviews: Cajsa von Zeipel by Franklin Melendez; Women's History Museum by Julia Trotta; Yaeji by Eliza Ryan; Rereading Pettibon's Twitter by Allison Fonder; Lab Cult by Cristina Travaglini; Converso by Federico Sargentone; Charles Atlas by Rosey Selig-Addiss; Nkisi by Andrea Lissoni; Sophia Al-Maria by Myriam Ben Salah; Aries by Calum Gordon; Mother Culture by Jennifer Piejko; Sondra Perry by Lumi Tan; Swiss Institute by Alexandra Alexa; Rebecca Ackroyd by Federico Sargentone; Tau Lewis by Daniel Fuller; Paul Maheke by Charles Aubin; Orion Martin by Christopher Schreck; and Johannes Paul Raether by Elisa R. Linn & Lennart Wolff.
"Obsessed," a think piece by Alissa Bennett, closes the issue with a tale on the power, beauty and danger of intense fandom.
This issue comes with STRETCHED, a photo zine providing exclusive insight into the making of KALEIDOSCOPE's collaboration with legendary luggage company RIMOWA, inviting Houston native artist/designer Dozie Kanu (b. 1993) to put a progressive outlook on this timeless design icon. The zine is part of a multi-platform project on the occasion of Milan Design Week 2018, also unfolding through an installation at Spazio Maiocchi, KALEIDOSCOPE's new home in Milan, and a short film shot in Lisbon by British filmmaker Sam Hiscox.
Niet leverbaar
Deze titel is (nog) niet op voorraad.