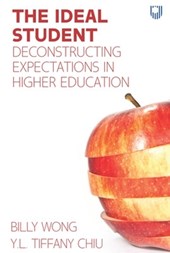 The Ideal Student: Deconstructing Expectations in Higher Education 1e
This clearly written and engaging book will be of interest to HE practitioners, students and researchers who want to support more inclusive learning environments.
Professor Louise Archer, Karl Mannheim Professor of Sociology of Education, UCL Institute of Education, UK
This is a rigorously informed and illuminating reconsideration of the notion of the Ideal Type of student in higher education.
Professor Gill Crozier DPhil, FRSA, University of Roehampton, UK
Based on solid empirical work, combining qualitative and quantitative data, the book offers an insight into the perception of whom and what the ideal student is.
Professor Lars Ulriksen, Department of Science Education, University of Copenhagen, Denmark
This book presents an exciting and novel approach to explore the concept of the 'ideal student'. Written in the context of higher education, the concept aims to promote a more transparent conversation about the explicit, implicit and idealistic expectations of university students. It would address concerns that implicit rules or unspoken practices can result in diverse but patterned student experiences, widening social inequalities.
The concept of the ideal student can provide students, especially those less familiar or confident with higher education, with a better and clearer understanding of what is valued, expected and rewarded at university. With increasing student diversity, there is an urgent need for greater openness and awareness of the different expectations and ideals of students. The key questions explored include:
*How is the ideal student imagined and envisioned?
*To what extent are these constructions realistic and achievable?
*Are certain students more likely to aspire, identify or embody these ideal characteristics?
*Are there any features of the ideal student that are widely shared and recognised?
*How do people from different social backgrounds construct their ideal student?
*How can staff support students to develop desirable characteristics for university?
A number of issues are unpacked as the book discusses the nuances of what it means to be a university student. The Ideal Student is written for a general audience and will be of particular interest to those working or studying in higher education, especially staff, students and senior leaders.
Billy Wong is an Associate Professor in Widening Participation at the Institute of Education, University of Reading.
Tiffany Chiu is Senior Teaching Fellow in Educational Development at the Centre for Higher Education Research and Scholarship and Programme Director for the PG Cert in University Learning and Teaching at Imperial College London. She is a Senior Fellow of the HEA.
Specificaties
ISBN

9780335249251

Uitgever

Open University Press

Datum

05-05-2021

Taal

Engels

Bladzijden

0

Bindwijze

Paperback

Genre

Pedagogiek/onderwijs
Meer op Athenaeum.nl over boeken
4 redenen om dit boek bij ons te kopen
Gratis verzending vanaf € 20,-
Advies per telefoon
Bestellen zonder registratie of login
Vertrouwde service, veilige afhandeling