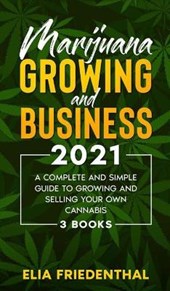 Marijuana GROWING AND BUSINESS 2021
A Complete and Simple Guide to Growing and Selling Your Own Cannabis (3 BOOKS)
Ready to start learning to grow marijuana?
Is it legal to sell Cannabis online?
How do I start a business selling Cannabis?
How do I market a Cannabis business?


This BOOK: GROWING AND BUSINESS: by ELIA FRIEDENTHAL teaches you how EASY it is to GROW WEED. The whole process is actually straightforward and surprisingly simple when you know what you need to do!
"How much money will it cost to get started?"
If you're considering growing weed, it costs as little as $300 to get started growing or a bit more for a semi-automatic, high-yielding bubbleponics grow system.
"How much will electricity cost each month?"
If you're just growing a few marijuana plants for personal use, it will cost you $20-$100+/month for electricity, depending on what grow lights (electricity) and nutrients you use.
"How can I increase my marijuana yields?"
We have quite a few techniques to choose from or combine!
"What if my plants get sick?"
If you run into problems, our "diagnose your plant" CHAPTER will help you figure out what's wrong! The most common issue a grower runs into is a pH imbalance. Barring that, your marijuana plants likely either have a nutrient deficiency, heat or light stress, or are being attacked by some sort of marijuana mold, pest, or bug.
This book: Marijuana 2021: GROWING AND BUSINESS covers many popular cannabis cultivation and business topics, including:
BOOK 1: MARIJUANA GROWER'S HANDBOOKDrying
Seeds
Flowers
Pinking
How to Store Our Marijuana Step by Step?
How Do You Get Advanced Cannabis Seeds?
5 Ways to Make the Most of Advanced Cannabis Seeds
Install A Ventilation System
Install the Other Accessories
10 Things Not to Do in Cannabis Culture
The Right Temperature for An Optimal Cannabis Harvest


BOOK 2: MARIJUANA GUIDE: GROWING & BUSINESSSativa
Cannabis Indica
Cannabis Ruderalis
THC And CBD
Technique
How to Make Feminized Cannabis Seeds?
Photosynthesis and The Life Cycle of Marijuana
Flowering
Photoperiodic Vs Auto-flowering
Hydroponic Systems
Life Cycle
Cloning
Collection
The Harvest Step by Step
Tips for Problems Like Leaf Rot and Preventing Cannabis Fungus


BOOK 3: MARIJUANA BUSINESSLegal Marijuana: The Legislation
Coffee Shop, Smart Shop, Dispensaries
How to Get into The Legal Marijuana Business
How to Become A Light Cannabis Dealer?
Open A Legal Marijuana Store
How to Buy Wholesale Hemp?
How to Open A Legal Cannabis Online Shop?
Business Plan
Light Hemp Shop in Franchising
Licenses and Bureaucratic Procedures in the USA
Packaging, Advertising, and Marketing
Opening A Dispensary
How Much Does It Cost and How to Open A Cannabis Shop in The World?
The Extraction of THC Resin by The Butane Procedure
Safety Plan for The Distribution of Cannabis or Artisanal Cultivation
Costs to Promote Your Cannabis Business
Ideas for Working with Legal Cannabis
Income from Cultivation


Start Growing Weed Today!
Specificaties
ISBN

9781801188494

Uitgever

Gabriela Beatris Craescu

Druk

1e

Datum

07-05-2021

Taal

Engels

Bladzijden

428 pp.

Bindwijze

Hardcover
Meer op Athenaeum.nl over boeken
4 redenen om dit boek bij ons te kopen
Gratis verzending vanaf € 20,-
Advies per telefoon
Bestellen zonder registratie of login
Vertrouwde service, veilige afhandeling