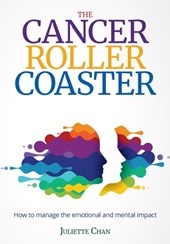 The Cancer Roller Coaster
How to manage the emotional and mental impact
Two days after celebrating her 50th birthday, Juliette Chan had an unexpected birthday present: bowel cancer.
Luckily, they caught it early, but once the treatment was over, the psychological side-effects surfaced. For many months, Juliette was adrift and felt lost. It seemed that everything in her life was up for review and she struggled to gain clarity about what to do next. There were many questions, such as:

When will I feel normal again?

Why am I not as motivated as before?

Will the cancer come back?

Why am I mentally exhausted?





It took her a while to realise that the cancer had caused a whole load of losses: loss of trust in her body, self-image as a fit and healthy person, energy, confidence, motivation, income and much more. And that's when the penny dropped; she was grieving.

Cancer not only involves coping with the physical disease and treatment - it also means experiencing and dealing with hidden losses that will affect how you view and live your life.

Every time you experience a loss, there is an emotional response: grief. Most people only associate grief with bereavement but it is in fact a natural reaction to any and all losses, including the hidden and intangible losses you face with cancer.

Anyone who has or has had cancer, as well as their family and friends, will experience grief - because life has changed. This can show up as anger, frustration, anxiety, 'depression', fear, sadness, etc.

If left unchecked or suppressed, grief will affect your mental health and emotional wellbeing. It doesn't have to be like this; it is possible to take care of the emotional and mental impact of cancer and to live well.

In her easy, relaxed style of writing, Juliette explains the emotional and mental impact of cancer and highlights the limitations of Mindfulness and positive thinking. She has also included a workbook with simple practical exercises that help to release the psychological side-effects and provide clarity.

You can also read the candid stories of eight others who faced cancer:


Robert describes his initial feelings of shock on diagnosis and how others helped him to cope, whereas Meena recounts going it alone.

Petra shares how she continued to run throughout her treatment, and Susan talks movingly about the seemingly endless decision-making from diagnosis onwards.

Mary, Tony and June recount their unique experiences of the same cancer.

Then there's Rhonda who reflects on how she now thinks a lot more about her purpose in life.





The Cancer Roller Coaster is for anyone who has been affected by cancer, whether as a patient, relative or friend. Those living with cancer who are looking for greater peace of mind and clarity would also find it beneficial.

Juliette Chan is a bereavement volunteer and Advanced Grief Recovery Specialist. She has helped hundreds of grievers and now focuses on supporting men and women through the emotional and mental impact of their cancer experience.

She is the founder of Altered Dawn CIC, a UK-based not-for-profit company, and works with clients in the UK and worldwide.
Specificaties
ISBN

9781916489462

Uitgever

Librotas Books

Druk

1e

Datum

31-01-2019

Taal

Engels

Bladzijden

186 pp.

Bindwijze

Paperback

Genre

Geneeskunde
Meer op Athenaeum.nl over boeken
4 redenen om dit boek bij ons te kopen
Gratis verzending vanaf € 20,-
Advies per telefoon
Bestellen zonder registratie of login
Vertrouwde service, veilige afhandeling