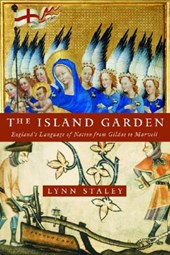 The Island Garden
England's Language of Nation from Gildas to Marvell
For centuries England's writers used the metaphor of their country as an island garden to engage in a self-conscious debate about national identity. In The Island Garden: England's Language of Nation from Gildas to Marvell, Lynn Staley suggests that the trope of Britain as an island garden catalyzed two crucial historical perspectives and thus analytic modes: as isolated and vulnerable, England stood in a potentially hostile relation to the world outside its encircling sea; as semi-enclosed and permeable, it also accepted recuperative relationships with those who moved across its boundaries. Identifying the concept of enclosure as key to Britain's language of place, Staley traces the shifting meanings of this concept in medieval and early modern histories, treatises, and poems. Beginning with Gildas in the sixth century, Staley maintains that the metaphor of England as the island garden was complicated, first, by Bede in the eighth century and later by historians, polemicists, and antiquarians. It allowed them to debate the nature of England's identity in language whose point might be subversive but that was beyond royal retribution. During the reign of Edward III, William Langland employed the subjects and anxieties linked to the island garden metaphor to create an alternative image of England as a semi-enclosed garden in need of proper cultivation. Staley demonstrates that Langland's translation of the metaphor for nation from a discreet and royal space into a communally productive half-acre was reformulated by writers such as Chaucer, Hoccleve, Tusser, Johnson, and Marvell, as well as others, to explore the tensions in England's social and political institutions. From the early thirteenth to the seventeenth centuries, English treatments of the biblical story of Susanna capture this self-conscious use of metaphoric language and suggest a perspective on law, individual rights, and conscience that is ultimately crucial to England's self-conception and description. Staley identifies in literary discourse a persistent argument for England as a garden that is enclosed yet not isolated, and that is protected by a law whose ideal is a common good that even kings must serve. The Island Garden is a fascinating and focused exploration of the ways in which authors have developed a language of place to construct England's cultural, social, and political identity. 'Lynn Staley's The Island Garden: England's Language of Nation from Gildas to Marvell is a capacious, erudite, ruminative, recursive work that explores the complex web of discourses that composed the identity and history of England. Staley shows us the ways in which writers formed a range of images for England as they engaged with different political contexts. Hers is not a unilinear, teleological history; rather, we encounter a patient display of continuity in the resources of historical imagination from medieval to early modern.' - David Aers, Duke University
€10,00

Levering binnen: 2 werkdagen.
Op voorraad in de volgende winkels:
Van Baerlestraat 170-172, het Martyrium
Specificaties
ISBN

9780268041403

Uitgever

University of Notre Dame Press

Druk

1e

Datum

15-05-2012

Taal

Engels

Bladzijden

376 pp.

Bindwijze

Paperback

Genre

Literatuurwetenschap
Meer op Athenaeum.nl over boeken
Koop uw boeken bij Athenaeum
Gratis verzending vanaf € 20,- (in de algemene webwinkel, binnen Nederland).
Bestellen zonder registratie of login.
Vertrouwde service, veilige afhandeling.