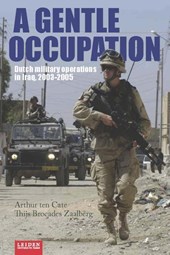 A gentle occupation
Dutch military Operations in Iraq, 2003-2005
"A Gentle Occupation" analyses Dutch military operations in the aftermath of the 2003 US-led invasion in Iraq. It raises the question why, in contrast to most allied troops elsewhere in Iraq, Dutch forces in Al Muthanna province met with little resistance and left Iraq self-confident of their ability to deal with this type of stabilisation operations. Using previously classified documents and interviews, Ten Cate and Brocades Zaalberg examine the way the Dutch government consciously framed this mission as different from the American and British occupation and often in contrast to the actual situation on the ground. They unravel the widespread idea of a unique and superior 'Dutch approach', by detailing tactical operations and contextualising the Dutch actions within the larger experiences of the Coalition Forces. Ultimately, the authors argue that despite effective tactical reflexes by Dutch commanders, stability in Al Muthanna was conditions-driven rather than the result of a unique national approach.

Arthur ten Cate is Senior Researcher at the Netherlands Institute of Military History (NIMH) in The Hague, where he specializes in contemporary military history, international military interventions and special operations warfare.

Thijs Brocades Zaalberg is Researcher at the Netherlands Institute of Military History (NIMH) in The Hague, where he focuses on colonial warfare, counter-insurgency and peace operations.


"This is a very well written, extensively researched draft that will fill a niche (particularly in the English language) on the role the Netherlands played in the initial phase of operations in post-Saddam Hussein's Iraq. It will be of value to a specialized audience including the military, policy makers, and political scientists." - Professor John Gordon IV, Senior Policy Analyst at the RAND Corporation and Professor at the Pardee RAND Graduate School.

"For the first time A Gentle Occupation anatomizes a 'European' approach in facing and fighting an insurgency in Iraq. It does so on the basis of previously classified documents from the Ministry of Defence, as well as on archival material from the Ministry of Foreign Affairs. Its value for the international debate on Iraq, Afghanistan , and the future of military stabilization efforts in general cannot be overestimated." - Dr. Bernhard Chiari, Director at the Bundeswehr Center of Military History and Social Sciences in Potsdam, Germany.

"In the burgeoning literature on the American and British experience in the aftermath of the 2003 invasion of Iraq, there is this fine study by Brocades Zaalberg and Ten Cate of the Dutch experience in Al Muthanna province from 2003 to 2005. This book will certainly help scholars and decision-makers understand the recent Dutch experience and how it shapes Dutch attitudes, policies and practices." - Prof. dr. Joseph T. Jockel, Professor of Canadian Studies at St. Lawrence University, New York.

Niet leverbaar
Deze titel is (nog) niet op voorraad.
Specificaties
ISBN

9789087282226

Uitgever

Leiden University Press

Druk

1e

Datum

28-11-2014

Taal

Engels

Bladzijden

352 pp.

Bindwijze

Paperback

Genre

Geschiedenis
Meer op Athenaeum.nl over boeken
Koop uw boeken bij Athenaeum
Gratis verzending vanaf € 20,- (in de algemene webwinkel, binnen Nederland).
Bestellen zonder registratie of login.
Vertrouwde service, veilige afhandeling.