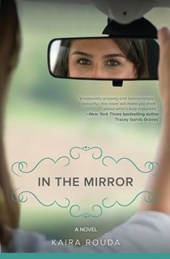 In the Mirror
What choices would you make if you knew you may die soon?
From the USA Today bestselling, multi award-winning author comes a gripping and heart wrenching novel about a young mother who has it all. The only problem is she may be dying.
In her previous works including All the Difference and Here, Home, Hope, Rouda's characters "sparkle with humor and heart," and the stories are "told with honest insight and humor" (Booklist). "Inspirational and engaging" (ForeWord), these are the novels you'll turn to for strong female characters and an "engaging read" (Kirkus).
In the Mirror is the story of Jennifer Benson, a woman who seems to have it all. Diagnosed with cancer, she enters an experimental treatment facility to tackle her disease the same way she tackled her life - head on. But while she's busy fighting for a cure, running her business, planning a party, staying connected with her kids, and trying to keep her sanity, she ignores her own intuition and warnings from others and reignites an old relationship best left behind.
If you knew you might die, what choices would you make? How would it affect your marriage? How would you live each day? And how would you say no to the one who got away?
"Kaira Rouda has created relatable characters you'll care deeply about. Emotionally gripping and heart-achingly beautiful, In the Mirror will make you think about what's truly important." 
~ Tracey Garvis Graves, New York Times bestselling author
"Balancing sadness and humor, the retrospective tone of this novel is both therapeutic and affecting. In the Mirror is an emotion-packed novel about a mother facing terminal cancer. It is a nostalgic tribute to the things that really matter: family and friends." 
~ Foreword
"Rouda writes with a fluent, psychologically subtle realism that cuts Jennifer's pathos (and occasional self-pity) with humor and irony, and she surrounds her with characters—doting dad; vain, shallow mom; mensch of a gay business partner; sarcastic gal pals—who are sharply etched and entertaining. Jennifer is a winning heroine, and readers will undoubtedly root for her as she reaches for a more mature, if achingly uncertain, future. An absorbing story of a woman grasping at life in the midst of death. 
~ Kirkus Reviews
"Jennifer's journey through cancer and her struggle to love her husband in the face of the return of her first love is something to cheer and rejoice in. A moving and uplifting novel about family and the struggles we all face to live every minute to the fullest." 
~ Anita Huges, author of Monarch Beach
"I was completely absorbed by In the Mirror. This is a moving story from the unique perspective of a seriously ill patient who is a wife, sister, daughter and friend, examining all of those relationships with honesty and humor. This story will stay with you because of the questions it asks and the answers it offers." 
~ Lian Dolan, bestselling author of Helen of Pasadena
€19,99

Levertijd: 4 tot 10 werkdagen.
Specificaties
ISBN

9780984915163

Uitgever

Real You Publishing Group

Datum

05-03-2014

Taal

Engels

Bladzijden

214 pp.

Bindwijze

Paperback EPUB

Genre

Engelstalige literatuur
Meer op Athenaeum.nl over boeken
Koop uw boeken bij Athenaeum
Gratis verzending vanaf € 20,- (in de algemene webwinkel, binnen Nederland).
Bestellen zonder registratie of login.
Vertrouwde service, veilige afhandeling.