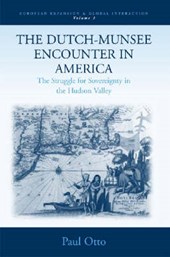 The Dutch-Munsee Encounter in America
The Struggle for Sovereignty in the Hudson Valley
"While Otto's conceptual framework is familiar, his interpretation offers much that is new and fresh...the benefits of placing the specific and local in a broader transnational and transatlantic context, which yields important correctives to notions of American exceptionalism and illuminates broader comparative perspectives, are apparent. The result is an enlightening and thought-provoking look at cultural interaction and frontiers in the colonial Northeast." * H-Atlantic "Otto provides important insights in the cultural developments with the Munsee during this time. He also broadens his analysis in an Afterword by comparing the three phases of the Dutch experience in New Netherland with their colonization of The Cape Colony in South Africa. He finds many parallels, but the most striking was that after periods of peaceful trade and episodes of violent conflict, both aboriginal groups eventually lost their land and became marginalized...The rest of us will be better served by looking to Otto's book to help us understand the complexities of the relationship between the Dutch and the Munsees in the seventeenth-century." * Long Island Historical Journal "...it offers a thoughtful investigation of understudied peoples and events, and on that count, it is wholly successful. ..With this useful book, Otto shows how historians of early America can both 'face east from Indian Country' and tell the story 'with the Dutch put in'". * H-Low-Countries "[this book is] a sterling example of how the scholarship on New Netherlands has grown recently...[Otto's] straightforward narrative provides an excellent chronology of events, causes, and consequences for both peoples in the region." * Choice "This is a first-rate discussion of native-European relations, which deals in a lucid way with the different layers of the encounter." * Wim Klooster, Clark University "The Dutch-Munsee Encounter in America fills a major gap in scholarly studies of New Netherland. With keen judgment and perceptive analysis, Paul Otto examines European intrusion into the lower Hudson Valley and western Long Island and evaluates the changes it wrought on Indian and Dutch societies. This deeply-researched book is as nearly definitive - in the absence of Munsee sources - as it could be, and the comparative essay on South Africa is a valuable bonus." * Alden T. Vaughan, Professor Emeritus of History, Columbia University Employing a frontier framework, this book traces intercultural relations in the lower Hudson River valley of early seventeenth-century New Netherland. It explores the interaction between the Dutch and the Munsee Indians and considers how they, and individuals within each group, interacted, focusing in particular on how the changing colonial landscape affected their cultural encounter and Munsee cultural development. At each stage of European colonization - first contact, trade, and settlement - the Munsees faced evolving and changing challenges. Understanding culture in terms of worldview and societal structures, this volume identifies ways in which Munsee society changed in an effort to adjust to the new intercultural relations and looks at the ways the Munsees maintained aspects of their own culture and resisted any imposition of Dutch societal structures and sovereignty over them. In addition, the book includes a suggestive afterword in which the author applies his frontier framework to Dutch-indigenous relations in the Cape colony.
Niet leverbaar
Deze titel is (nog) niet op voorraad.
Specificaties
ISBN

9781571816726

Uitgever

Berghahn Books, Incorporated

Druk

1e

Datum

01-04-2006

Taal

Engels

Bladzijden

248 pp.

Bindwijze

Hardcover

Genre

Antropologie
Meer op Athenaeum.nl over boeken
Koop dit boek bij Athenaeum
Gratis verzending vanaf € 20,-.

Het Boekenweekgeschenk cadeau boven € 15,-.

Bestellen zonder registratie of login.
Vertrouwde service, veilige afhandeling.